Out of the following FORTY FOUR kawaii bingo characters, choose 4 to put onto your Bingo Card :)
Use this form, and post as a comment:

CLOSED :)
In the process of making the Bingo Cards ! Please be patient with me as I will be over at my friends house the next two days ! thankkkyouu all for the many requests <3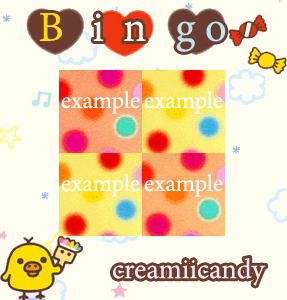 -After a couple of days. I will stop giving out Bingo cards, and start a new post. In this new post I will post pictures of the characters up randomly (using a random number generator).
-And once all four of your characters have been called out, call BINGO! show me your bingo card and you will get a surprise!
-The faster (and the more you check this community) the better chance you will call BINGO! first. (of course luck plays a huge part!)
Earlier Bingo's = Bigger prizes!!


| | | | | | | | |
| --- | --- | --- | --- | --- | --- | --- | --- |
| 1 | | 2 | | 3 | | 4 | |
| 5 | | 6 | | 7 | | 8 | |
| 9 | | 10 | | 11 | | 12 | |
| 13 | | 14 | | 15 | | 16 | |
| 17 | | 18 | | 19 | | 20 | |
| 21 | | 22 | | 23 | | 24 | |
| 25 | | 26 | | 27 | | 28 | |
| 29 | | 30 | | 31 | | 32 | |
| 33 | | 34 | | 35 | | 36 | |
| 37 | | 38 | | 39 | | 40 | |
| 41 | | 42 | | 43 | | 44 | |